Discovering the Coolest Place to Stay in the Canaries: Masca
Canary Islands: The Canary Islands are a popular destination for travelers seeking sunshine, beaches, and relaxation. However, if you're looking for a more unique and adventurous experience, you may want to consider staying in the charming town of Masca on the island of Tenerife, the Coolest Place to Stay in the Canaries.
Table of Contents: Canary Islands
Nestled in the Teno Mountains, Masca is surrounded by breathtaking natural beauty and offers a variety of outdoor activities for the adventurous traveler. Here's everything you need to know about discovering the coolest place to stay in the Canaries: Masca.
Getting to Masca:
Masca is located on the northwest coast of Tenerife, about an hour's drive from the island's capital, Santa Cruz de Tenerife. The town is accessible by car, but the road leading to Masca is narrow, winding, and steep, so be prepared for a thrilling drive.
If you're not comfortable driving on winding mountain roads, you can also take a bus or hire a taxi to Masca. Alternatively, you can hike to Masca from nearby towns, such as Santiago del Teide or Los Gigantes, for a more adventurous approach.
Accommodations in Masca:
Masca offers a variety of accommodations, ranging from cozy guesthouses to luxurious boutique hotels. Some popular options include the Casa Rural Las, Hotel Rural Casa Morera, and Hotel San Roque.
Casa Rural Las Portelas is a charming guesthouse with rustic decor and breathtaking views of the mountains. The hotel has eight rooms with private balconies and serves breakfast made with locally sourced ingredients.
Hotel Rural Casa Morera is a chic boutique hotel with modern decor and breathtaking views of Masca and the mountains. The hotel features 16 rooms, each with a private balcony or terrace, and a rooftop terrace with a plunge pool.
Hotel San Roque is a luxurious boutique hotel with elegant decor and a tranquil atmosphere. The hotel features 20 spacious rooms, a beautiful garden, and a restaurant that serves delicious Canarian cuisine.
Exploring Masca of Canary Islands:
Masca is a charming town with narrow streets and traditional Canarian architecture. Masca Gorge is a stunning natural attraction in the town, offering a challenging hike for adventurous travelers.
The hike through the Masca Gorge is about 5 miles long and takes about 3-4 hours to complete. The rocky trail requires sturdy shoes, water, and snacks to hike safely.
This Masca Gorge hike offers scenic views of mountains, Atlantic Ocean, and lush valley vegetation. Hikers can boat or taxi to Los Gigantes for relaxation on the beach or a meal after the trail.
Masca offers outdoor activities like biking, canyoning, and climbing, besides the popular Masca Gorge hike. Adventure travelers can explore Tenerife's rugged landscape by visiting the town surrounded by stunning natural beauty.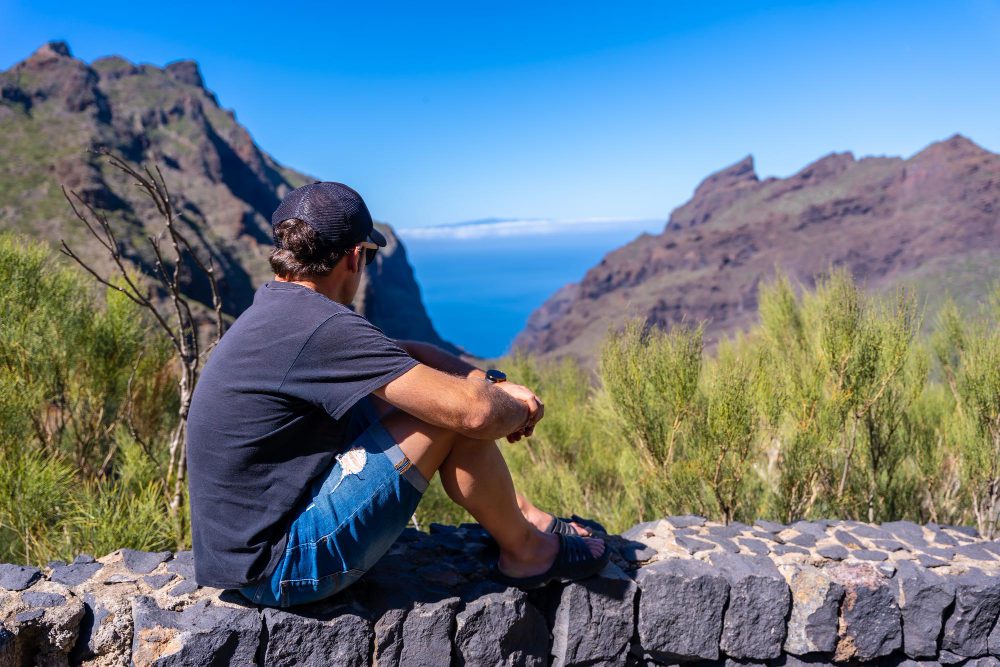 Relaxing in Masca:
While Masca is known for its adventurous activities, it's also a great place to relax and unwind. The town's tranquil atmosphere and stunning natural beauty make it the perfect destination for a peaceful getaway.
Visitors can relax in one of the town's many cafes and restaurants, enjoy a spa treatment at their hotel, or simply take a stroll through the charming streets of Masca. The town is also home to several art galleries and museums that showcase the local culture and history.
If you're looking for a unique and adventurous experience in the Canary Islands, Masca is the best place to visit.