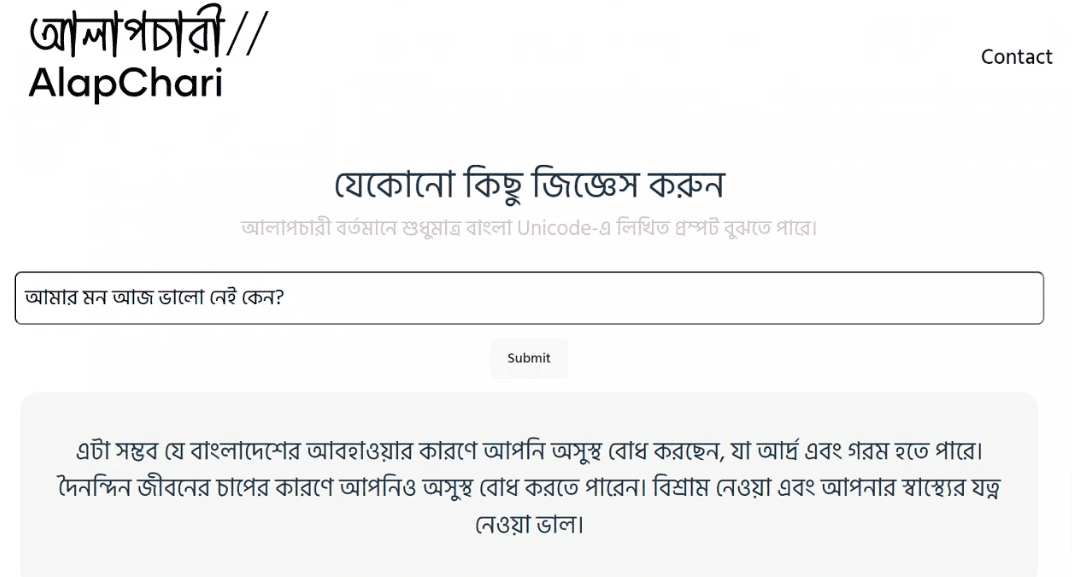 AlapChari: a Bangla AI language model, ChatGPT
Bangladesh's new Bangla language chatbot, Alapchari(আলাপচারী), makes a significant contribution to the constantly evolving world of AI. Developed by a Bangladeshi tech startup, Alapchari is a Bangla version of the popular AI language model, ChatGPT. Moreover, Alapchari is the first Bangla language model to use transformer-based architecture, which is a state-of-the-art technology in the field of AI.
The team officially launched Alapchari on February 15, 2023, and Bangla-speaking users have already embraced it. Users can utilize the chatbot for answering questions, customer support, and generating text content.
The team developed Alapchari to bridge the technology gap with the Bangla language. With more than 300 million Bangla speakers around the world, there is a need for more technology products that cater to this population. Alapchari aims to make technology more accessible to Bangla speakers and help them communicate more efficiently in their native language.
The Alapchari chatbot was developed over two years with tireless efforts from the team to ensure its accuracy, reliability, and user-friendliness. The team plans to enhance Alapchari based on user feedback, adding more features to the platform soon.
Alapchari's introduction is a major milestone for Bangladesh's tech industry, highlighting its potential in AI and NLP. Bangladesh's tech scene is growing, with more startups emerging, poised to make a name in the global community.
Summary of AlapChari (আলাপচারী)
The launch of Alapchari is a positive development for the Bangla-speaking community, offering a more accessible and efficient way to communicate in their native language. The team behind Alapchari deserves commendation for their dedication and hard work in bringing this innovative technology to the market.
If you want to try out the brand-new Bangla ChatGPT, check it out at: http://chatrik.org/alapchari
Love technology? Read more.