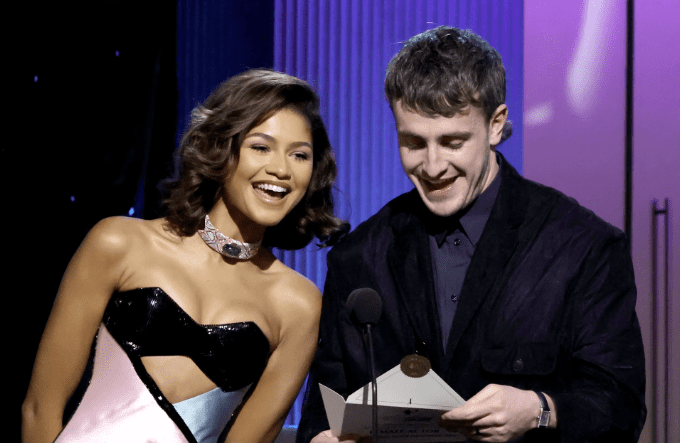 Zendaya and Paul Mescal's Heartwarming Moment at the SAG Awards: A Reminder of the Power of Solidarity in Hollywood
On the night of the 29th Screen Actors Guild Awards(SAG Awards), held on February 26, 2023, two actors, in particular, stole the show with a heartwarming moment captured on camera. Zendaya and Paul Mescal, both first-time nominees at the SAG Awards, were caught holding hands and sharing a sweet embrace after they were announced as the winners in their respective categories.
Zendaya won the award for Best Female Actor in a Drama Series for her role in the hit HBO series "Euphoria," in which she plays a teenage drug addict struggling with addiction and trauma. This marks Zendaya's first major award for her work on the show, and her win was met with widespread acclaim and excitement from fans and critics alike.
Meanwhile, Paul Mescal, who shot to fame last year for his role in the critically acclaimed limited series "Normal People," won the award for Best Male Actor in a Television Movie or Limited Series. In the show, Mescal portrays a young Irishman navigating love, sex, and intimacy with his on-again, off-again girlfriend. Like Zendaya, Mescal's win was also highly celebrated, with many praising his nuanced and affecting performance.
The moment of camaraderie and support between Zendaya and Mescal after their wins was a highlight of the night and a reminder of the power of solidarity and community in the entertainment industry. In recent years, there has been a growing push for greater diversity and inclusion in Hollywood, with many actors and filmmakers using their platforms to advocate for more representation and equity across all aspects of the industry.
Zendaya and Mescal's wins, and their touching moment of connection are a testament to this ongoing struggle and a reminder that progress can be made when we come together and support each other. As the entertainment industry continues to evolve and change, it will be important to remember the power of empathy and solidarity and to work toward a future that is more inclusive, equitable, and just for all.