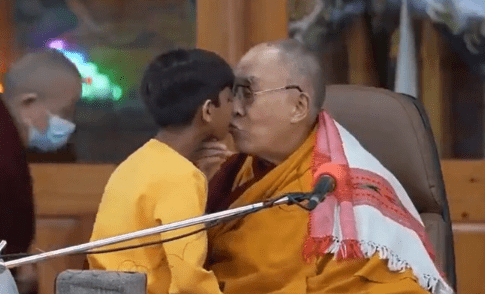 The Dalai Lama Apologizes After Video Shows Him Asking the Child to 'suck' his tongue
The world reveres the Dalai Lama for his message of peace and love. However, a recent video that surfaced on social media news has caused controversy and prompted an apology from the Dalai Lama himself.
The video shows the Dalai Lama addressing a crowd of people in the Netherlands when a young boy approaches him. The Dalai Lama then kisses the boy on his forehead, cheeks, and lips.
The video quickly went viral, with many people expressing their concern and outrage over the incident. The public held divided opinions, with some accusing the Dalai Lama of inappropriate behavior and others perceiving it as a cultural expression. The world reveres the Dalai Lama for his message of peace and love.
His Holiness often teases people he meets in an innocent and playful way, even in public and before cameras

Dalai Lama statement
In response to the criticism, the Dalai Lama apologized for any offense he may have caused through a statement. He explained valuing individuals and meaning no harm by his actions, stressing the importance of respect.
The controversy surrounding the video and Dalai Lama news highlights the need of respecting cultural variances and being aware of how our actions are viewed. We must always consider how others may interpret our behavior and work to foster respect and understanding.
Read more news from this blog.