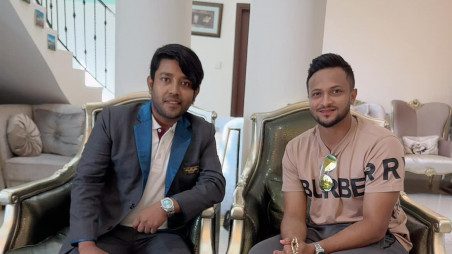 Arav Khan's Mysterious Claims on Facebook: A Divisive Public Reaction and Ongoing Investigation
Arav Khan, a Bangladeshi expatriate in Dubai, has recently made some mysterious claims on Facebook. His posts have caught the attention of many people, including law enforcement agencies and it is under investigation.
Arav Khan's Claims
Jump to a section of the content:
Arav claims to have evidence of corruption and human rights violations by some high-profile individuals in Bangladesh. He claims that someone has threatened him and put his family in danger.
Arav announced his permanent residency in Dubai on November 28, 2021, and shared pictures and videos of his experiences there.
He claimed to have purchased flats, obtained a Schengen visa, and owned a jewelry shop. In January 2022, he shared photos of his new flat on the 65th floor of Burj Khalifa.
He also posted a video from India riding a BMW motorbike. Recently, Arav and Shakib were seen in a video announcing the opening of Arav Jewellers in Dubai on March 15, and showbiz stars were also featured on his Facebook page.
Law Enforcement Involvement
The Bangladeshi police and other law enforcement agencies are investigating Arav's claims. They have asked for cooperation from the Australian authorities and have requested Khan to provide evidence.
Arav's Response
Arav has responded by saying that he is willing to provide evidence but wants assurances of his and his family's safety. Arav claimed that someone had been following him and hacking his phone.
Public Reaction
Arav's claims have elicited a mixed public reaction. "His claims should be taken seriously," say some who believe Arav is a whistleblower. And, others are skeptical and think that his claims are baseless.
Arav Khan's Investigation
Home Minister Asaduzzaman Khan Kamal has announced that Bangladesh Police have requested Interpol's assistance to bring back Rabiul Islam Apon, also known as Arav Khan, who is a wanted fugitive in a murder case involving a police inspector. The Home Minister stated that the authorities are making every effort to capture Arav Khan and bring him back to Bangladesh. He made this announcement during a program in Dhaka's Tejgaon area, where he spoke to journalists about the ongoing investigation.
The situation surrounding Arav Khan's claims is still shrouded in mystery. More information is expected to be revealed in the coming weeks and months as the investigation continues.
Recommended: Read more news from this blog.
Install Rits Browser and get real-time news on your android phone.