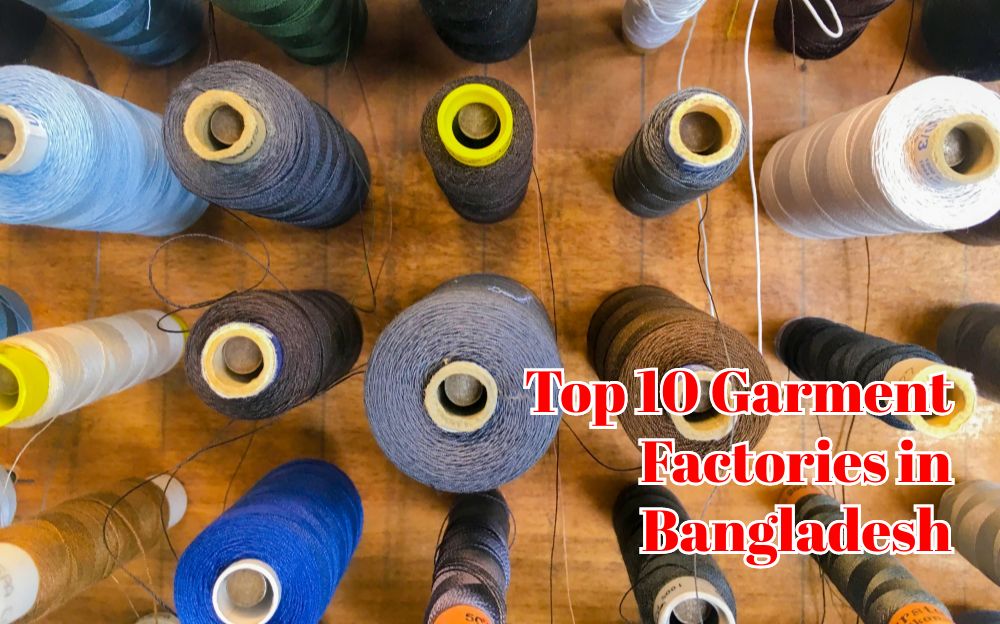 Top 10 Garment Factories in Bangladesh: Leading the Way in Apparel Manufacturing
The garment industry in Bangladesh has experienced remarkable growth over the years, positioning the country as one of the largest exporters of readymade garments globally. This success can be attributed to the presence of several top-notch garment factories that uphold international standards, produce high-quality products, and cater to renowned global brands. In this blog post, we will explore the top 10 garment factories in Bangladesh, shedding light on their specialties, achievements, and contributions to the industry.
Let's Explore The Top 10 Garment Factories in Bangladesh
1. Ha-meem Group:
Revolutionizing Denim and Fashion The Ha-meem Group stands out as a leading apparel manufacturing company in Bangladesh. With an impressive infrastructure consisting of 26 garment factories and seven washing plants, Ha-meem Group excels in producing trendy and fashionable denim and garment products. They have partnered with renowned fashion giants like ZARA, GAP, H&M, and JCPenney, establishing themselves as a trusted supplier in the global market.
2. Beximco Apparels Limited:
Setting Benchmarks in Woven Fabric Garments Beximco Apparels Limited is a 100% export-oriented garments manufacturing company renowned for its expertise in producing woven fabric garments. They specialize in crafting men's dresses, casual shirts, and ladies' blouses with a strong emphasis on quality control. Their commitment to excellence has earned them clients from the USA, Canada, and various European countries.
3. Square Fashions Ltd:
Sustainable Knit Apparel at Its Best Square Fashions Ltd has emerged as a prominent player in the production of readymade knit apparel. Their diverse product range includes polo shirts, t-shirts, trousers, hooded jackets, and undergarments. As a subsidiary of the Square Group, they prioritize sustainable practices and have been recognized as the "Best Workers' Friendly Knitwear Industry" in Bangladesh.
4. DBL Group:
A Global Supplier of High-Quality Knitwear DBL Group is a significant textile and clothing company that has gained recognition for its expertise in knitwear production. With a workforce of 35,000 employees, they cater to influential clothing brands worldwide, including H&M, Walmart-George, Puma, and Esprit. Their state-of-the-art production facilities enable them to produce 13 million pieces per month, catering to a diverse range of customers.
5. Epyllion Group:
Vertical Integration for Seamless Service Epyllion Group has established itself as one of the largest garment companies in Bangladesh, specializing in knit apparel manufacturing. Their vertically integrated production facility allows them to provide seamless service to their customers, who predominantly come from Europe, the United States, and Australia. With a strong emphasis on quality and innovation, Epyllion Group has become a trusted partner for international clothing brands.
6. Standard Group:
Respected and Reliable Garment Manufacturer The Standard Group holds a prestigious position as one of the longest-running and respected garment manufacturers in Bangladesh. Their comprehensive range of in-house facilities, including clothing washing, printing, weaving, garment testing, and accessories production, sets them apart from the competition. With a dedicated workforce of over 40,000 employees, they have gained global recognition for their production of shirts and sweaters.
7. Asian Apparels Limited:
Upholding Quality and Timely Shipment Asian Apparels Limited has earned its reputation as a leading garment manufacturer in Bangladesh by consistently delivering high-quality products and ensuring timely shipment. With 16 production facilities and three washing units, they employ around 30,000 workers to cater to the needs of their esteemed clients such as H&M, Walmart, Carter's, and more.
8. Akij Textile Mills Ltd:
Meeting Global Fabric Trends Akij Textile Mills Ltd has made a name for itself in the production of high-quality yarn-dyed and solid-dyed fabrics. Since its establishment in 1998, Akij Textile Mills Ltd has remained committed to staying up-to-date with global fabric trends and incorporating the latest technology in fabric production. Their advanced machinery and skilled personnel enable them to meet the diverse needs of their customers.
9. Ananta Group:
Exquisite Woven Clothing and Leather Goods Ananta Group has carved a niche for itself as a well-established garment manufacturer with a strong focus on exports. They specialize in producing ready-made woven clothing and leather goods, serving renowned brands like Gap Inc., H&M, Next, and many more. With state-of-the-art facilities and an experienced workforce, Ananta Group consistently delivers high-quality products to its global clientele.
10. Pakiza Group:
Printing and Dyeing Specialists Pakiza Group's textiles division excels in spinning, weaving, dyeing, and printing. They offer a wide range of printed fabrics, including luxurious options, making them a recognized brand in Bangladesh and abroad. Pakiza Group's growth and technology-driven approach position it as a key player in the garment manufacturing industry.
Below is a comparison chart highlighting the key features and specialties of the Top 10 Garment Factories in Bangladesh:
| Factory | Specialties | Clients | Production Capacity (pcs/month) |
| --- | --- | --- | --- |
| Ha-meem Group | Denim and fashionable garments | ZARA, GAP, H&M, JCPenney, and more | – |
| Beximco Apparels Limited | Woven fabric garments | USA, Canada, European countries | 8,000 |
| Square Fashions Ltd | Readymade knit apparel | PUMA, G-Star, TOMMY HILFIGER, and more | 100,000 |
| DBL Group | High-quality knitwear | H&M, Walmart-George, Puma, Esprit, and more | 13,000,000 |
| Epyllion Group | Knit apparel | European countries, USA, Australia | – |
| Standard Group | Shirts and sweaters | – | 150,000 |
| Asian Apparels Limited | Garments manufacturing and timely shipment | H&M, Walmart, Carter's, and more | – |
| Akij Textile Mills Ltd | Yarn-dyed and solid-dyed fabrics | – | – |
| Ananta Group | Woven clothing and leather goods | Gap Inc., H&M, Next, and more | 1,800,000 |
| Pakiza Group | Printing and dyeing of textiles | – | – |
Please note that the production capacity for some factories was not available.
This chart provides an overview of the specialties and clients of each garment factory, as well as an indication of their production capacities.

Bangladesh's garment factories have driven economic growth and positioned the country as a global apparel leader. The top 10 garment factories discussed in this blog post exemplify excellence, innovation, and commitment to producing high-quality garments. These factories' collaborations, sustainability, and exceptional products have established their industry positions. These factories are key to shaping Bangladesh's future success in the garment sector.
FAQs: Top 10 Garment Factories in Bangladesh
Q1: How many garment factories are there in Bangladesh?
As of the latest data, there are thousands of garment factories operating in Bangladesh. The exact number may vary as new factories are established and existing ones may close or change ownership.
Q2: What types of garments are produced in Bangladesh?
Bangladesh is known for producing a wide range of garments, including but not limited to t-shirts, dresses, jeans, shirts, blouses, trousers, jackets, sweaters, and sportswear. The country has a diverse manufacturing capacity to cater to various clothing needs.
Q3: Which international brands source garments from Bangladesh?
Several international brands source their garments from Bangladesh, including popular names like ZARA, H&M, GAP, Walmart, Puma, Esprit, Tommy Hilfiger, and more. These brands often collaborate with garment factories in Bangladesh to produce their clothing lines.
Q4: Are the garment factories in Bangladesh compliant with safety and labor standards?
In recent years, Bangladesh has made significant efforts to improve safety and labor standards in the garment industry. The government, in collaboration with international organizations and brands, has implemented various initiatives to enhance workplace safety, promote workers' rights, and ensure compliance with international labor standards. However, it is important to note that continuous efforts are needed to address any remaining challenges and further improve the industry's standards.
Q5: What measures are taken to ensure ethical practices in garment factories?
To promote ethical practices, many garment factories in Bangladesh have adopted social compliance standards, such as those outlined by the Accord on Fire and Building Safety and the Alliance for Bangladesh Worker Safety. These standards cover areas such as workplace safety, fair wages, working hours, child labor prevention, and worker rights. Regular audits and inspections are conducted to monitor and ensure compliance with these standards.
Q6: Are there any sustainable garment factories in Bangladesh?
Yes, there are garment factories in Bangladesh that prioritize sustainability and have implemented eco-friendly practices. Some factories focus on using organic and recycled materials, reducing water and energy consumption, implementing waste management systems, and promoting ethical sourcing. Square Fashions Ltd and Ananta Group are examples of garment factories in Bangladesh that have received recognition for their commitment to sustainability.
Q7: How can I find reliable garment factories in Bangladesh for sourcing my products?
When looking for reliable garment factories in Bangladesh, it is essential to conduct thorough research, seek recommendations from industry professionals, and consider factors such as reputation, certifications, production capacity, product specialization, compliance with international standards, and past client relationships. Participating in trade fairs, visiting industrial zones, and connecting with local trade associations can also be helpful in identifying potential garment factories.
Q8: Can I visit garment factories in Bangladesh for a factory tour or inspection?
Many garment factories in Bangladesh are open to factory tours and inspections. However, it is advisable to contact the factory management in advance to arrange a visit and confirm their policies regarding factory tours. During the visit, it is essential to respect the factory's rules and regulations, adhere to safety guidelines, and maintain confidentiality regarding any proprietary information observed during the tour.
Read more related articles: The Economy of Bangladesh in 2023